C15:0 for a Healthier Body and Mind
C15:0 is an essential fatty acid that your body needs to stay healthy, especially as you age. Fatty15 is a science-backed, patented, award-winning, pure and vegan-friendly C15:0 supplement to support your long-term health and wellness.

Fatty15 promotes healthy metabolism, balanced immunity, and heart health. 2 out of 3 customers report near-term benefits, including calmer mood, deeper sleep or less snacking, within 6 weeks. Learn more

Note: After your initial kit, all subscription refills will ship every 90 days at $119.95.

90 Day Starter Kit
with 90-day Subscription
30 Day Trial Kit
with 90-day Subscription
90 Day Starter Kit
without Subscription

Delivered quarterly
to your door.

Cancel anytime,
no hassle

Free shipping
for every U.S. order.
You may be wondering...
What are HSAs and FSAs?
HSAs and FSAs were created for you to spend tax-advantaged dollars on approved products and services that support your health. Many employers offer these funds, which are saved in dedicated accounts.
Can I use my HSA/FSA funds to get reimbursed for fatty15?
Chances are, yes! We have partnered with Truemed, a team devoted to helping consumers use their HSA/FSA funds to get reimbursed for science-backed products (aka fatty15) that support long-term health.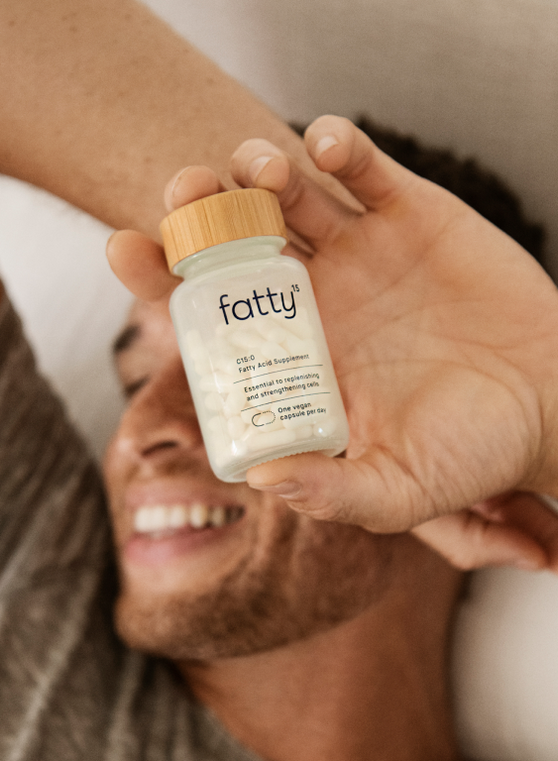 How do I use my HSA/FSA funds to get reimbursed for fatty15?
Follow these three simple steps:
1
Purchase fatty15 as you normally would, with your usual credit or debit card.
2
Look for an email from fatty15 with instructions for how to get reimbursed with HSA/FSA funds, including a link to take a health survey to get qualified.
3
After completing the survey, you'll receive a Letter of Medical Necessity that you can share with your HSA/FSA administrator. Truemed will also provide instructions on how to get reimbursed for your fatty15 purchases.
It's that easy!
FAQ
Is fatty15 covered under an FSA/HSA reimbursement plan?

Exciting news! Yes, fatty15 supplements are covered under FSA/HSA reimbursement plans, made possible through our partnership with Truemed.

How long does the approval process take for a customer to get a Letter of Medical Necessity?

The qualification survey form is only a few questions. No live consultation with a doctor is required. If eligible, approval is instant, and Truemed will then provide a Letter of Medical Necessity via email within 24 hours.

How many Letters of Medical Necessity does a customer need to obtain?

Each Letter of Medical Necessity can cover all orders of fatty15 over a 12 month period. Prior orders can be reimbursed subject to rules set by HSA/FSA providers.

How long does the Letter of Medical Necessity last?

Each Letter is valid for 12 months before it needs to be renewed.

How do I get reimbursed for fatty15?

Purchase fatty15 using your usual credit or debit card. Truemed will then provide the documentation, upon approval, to submit your reimbursement claim to your HSA/FSA provider. You can either submit claims individually or all at the end of the year.

Can I use my Letter of Medical Necessity for prior purchases of fatty15?

You will have to check with your HSA/FSA insurance carrier. While we cannot comment on orders placed in the past, once qualified, we can promise that you can get reimbursed for future fatty15 orders.
What's introductory pricing?
You're among the first to start aging on your own terms.* And we think that calls for a celebration. So we're offering our fatty15™ 90-day supply for $119.95 (normally $149.95). Start your subscription now to lock in the savings!
What's included in my pre-order?
The Smarter Starter Kit

1 reusable glass bottle and a 90-day supply of fatty15™.

The Quarterly Subscription

A 90-day supply, delivered to your door quarterly.
When will I be billed?

We'll bill you $119.95 today. Then, $119.95 every 90 days.

Ready to give your cells a fighting chance?

We are too. Let's do it!