Refer your friends, get a $10 discount!
Give your friends 20% off a 90-day subscription. When your friends buy from your invite link, you get a $10 discount!
Access Program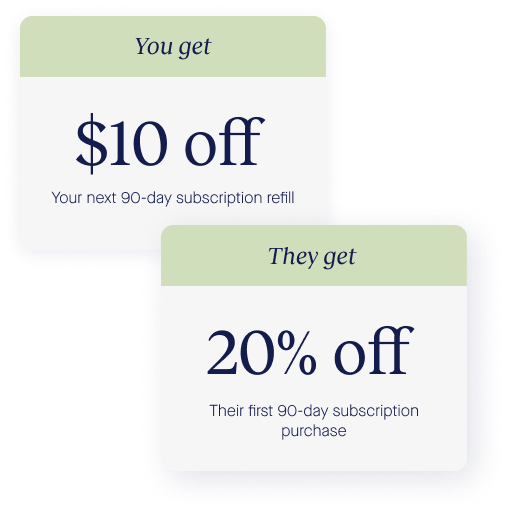 WE KEEP IT SIMPLE
Here's how it works
1
Join the party
Click on the Referral button below or in the lower left corner to begin.
Access program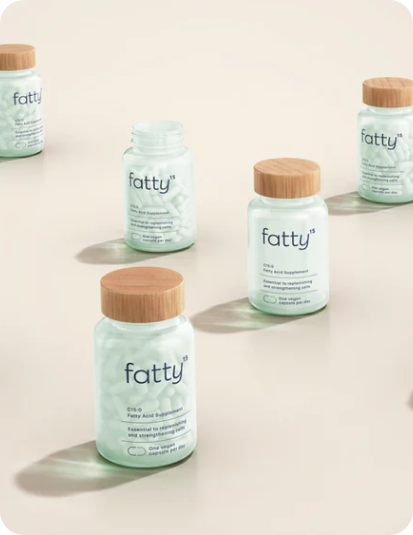 2
Refer a friend
You'll receive your own customer referral code when you sign up for the referral program. In addition to the code itself, you can create your own, customized page to share your referral code with family and friends. Add your own fatty15 pictures, videos and testimonials that you want to share. Be creative! Then share across social media, email or in person.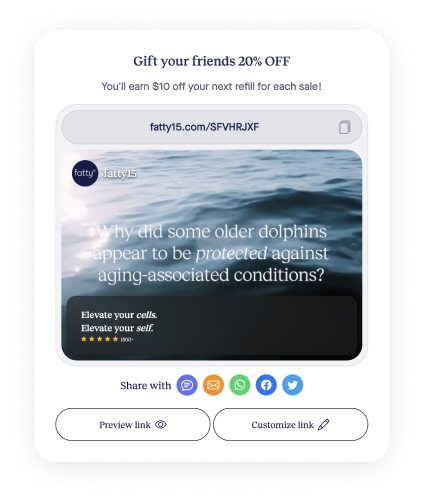 3
Redeem for discounts
When one of your friends uses your referral code during checkout, you both get rewarded! They receive a discount off their first subscription, you receive a discount on your next fatty15 refill. Share more, save more!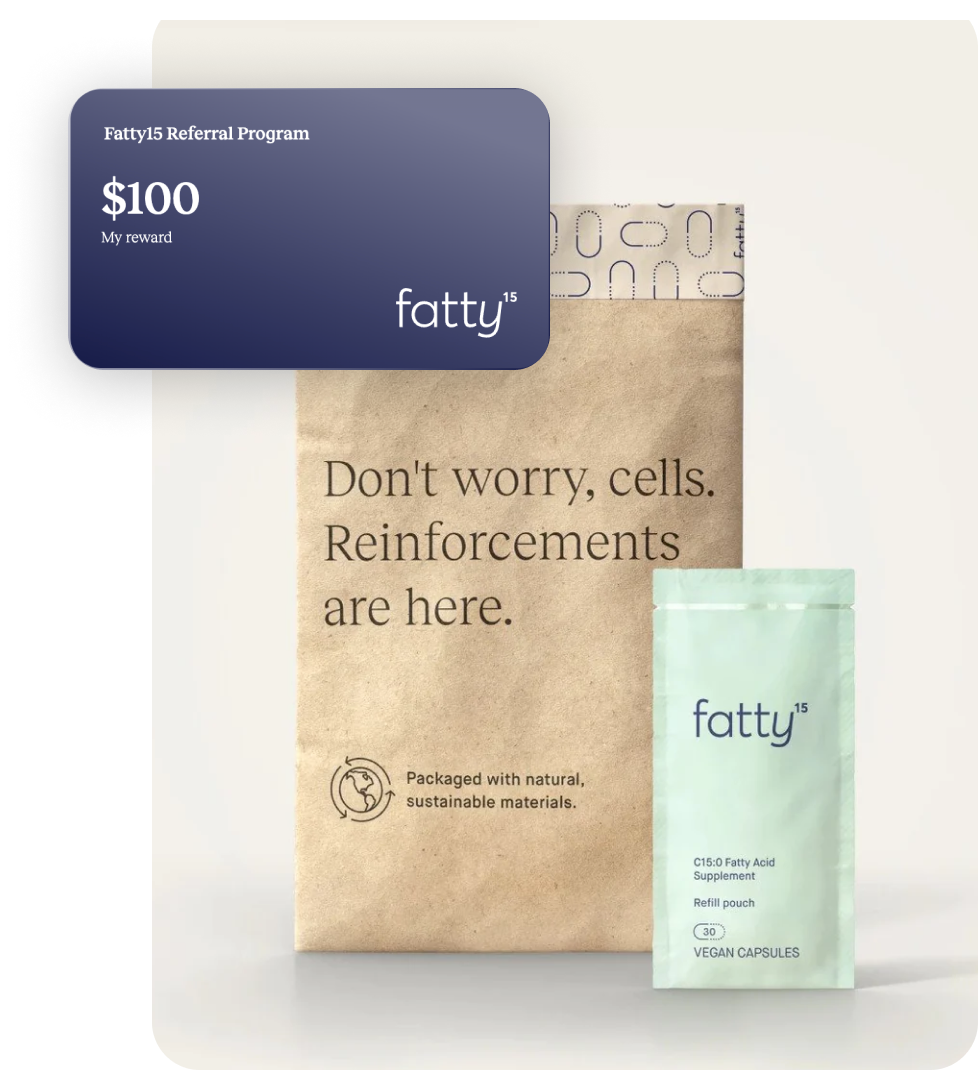 STILL HAVE QUESTIONS?
Referral FAQ's
By embarking on your fatty15 journey, you've invested in your long term health, and learned a lot of science along the way. Now you can pass this knowledge on to your friends and family, and be rewarded for doing so.


What is the fatty15 referral program?

Our referral program is set up as a way to reward our fatty15 brand advocates for spreading the word of fatty15 to your family and friends. With each new customer that signs up for a subscription using your referral code, you receive a $10 off discount that is applied to your next fatty15 90-day refill. Multiple referral discounts can be applied to your next 90-day refill. The person you refer will receive 20% off their first subscription.

How do I join the fatty15 referral program?

All you need to do is click on the 'Join now' or 'Access program' buttons' to get started. All you will need is an email address. Once you are set up, you will then see your unique referral link to share with family and friends. Copy the link and share away!



Where can I find my referral code?

You can find the referral code by clicking on the 'Join now' or 'Access Program' buttons and signing into your account.


Where do I enter my discount code at checkout?

On the checkout page, you will see a section to enter in your discount code or gift card on the right hand side. Once you enter your unique code, click apply, and the discount will be subtracted from your total cost.

What can I use my discount code on?

If you are an existing customer, your discount code will be applied to your next 90-day Refill. If you refer multiple people, you will be able to apply the full balance, all at one time, to your refill order. Just make sure to go into the wallet in your referral account, and turn on the automated  button to make sure they are applied to your next order.

If you are a new customer, your discount code can be used on the purchase of a new 90-day Subscription Starter Kit.

Do my referral credits get automatically applied to my next Refill order?

In order to get referral credits to automatically be applied, just make sure to visit the wallet in your referral account, and enable your credits to be automatically applied to your next refill order.

Do referrals expire?

Your referral rewards never expire. As an existing customer, feel free to save them up, and they will be used on your next upcoming refill order.

If I was already part of the fatty15 Referral program, what happened to my credits?

No worries. All of your referral credits have automatically been added to your new referral program account. The only thing that has changed is your referral link.