fatty15 Trial Kit 30-day Supply Subscription
Take control of your health, from the inside out.
Start with The Smarter Starter Kit

To fully see what fatty15™ can do, we send you the 90-day supply. Your kit also includes our reusable glass bottle to keep it sustainable.

Subscribe to quarterly refills

No need to re-order or pick up fatty15™. Right before you run out, we send you a 90-day supply in recyclable pouches.

Age on your own terms

Add fatty15™ into your daily routine to protect your cells from aging-related breakdown.* Bravo to you (and your body) for getting wiser against age!
With just one of these a day you're promoting healthy
Fatty15™ is the world's first (and only) pure, essential C15:0 fatty acid supplement.†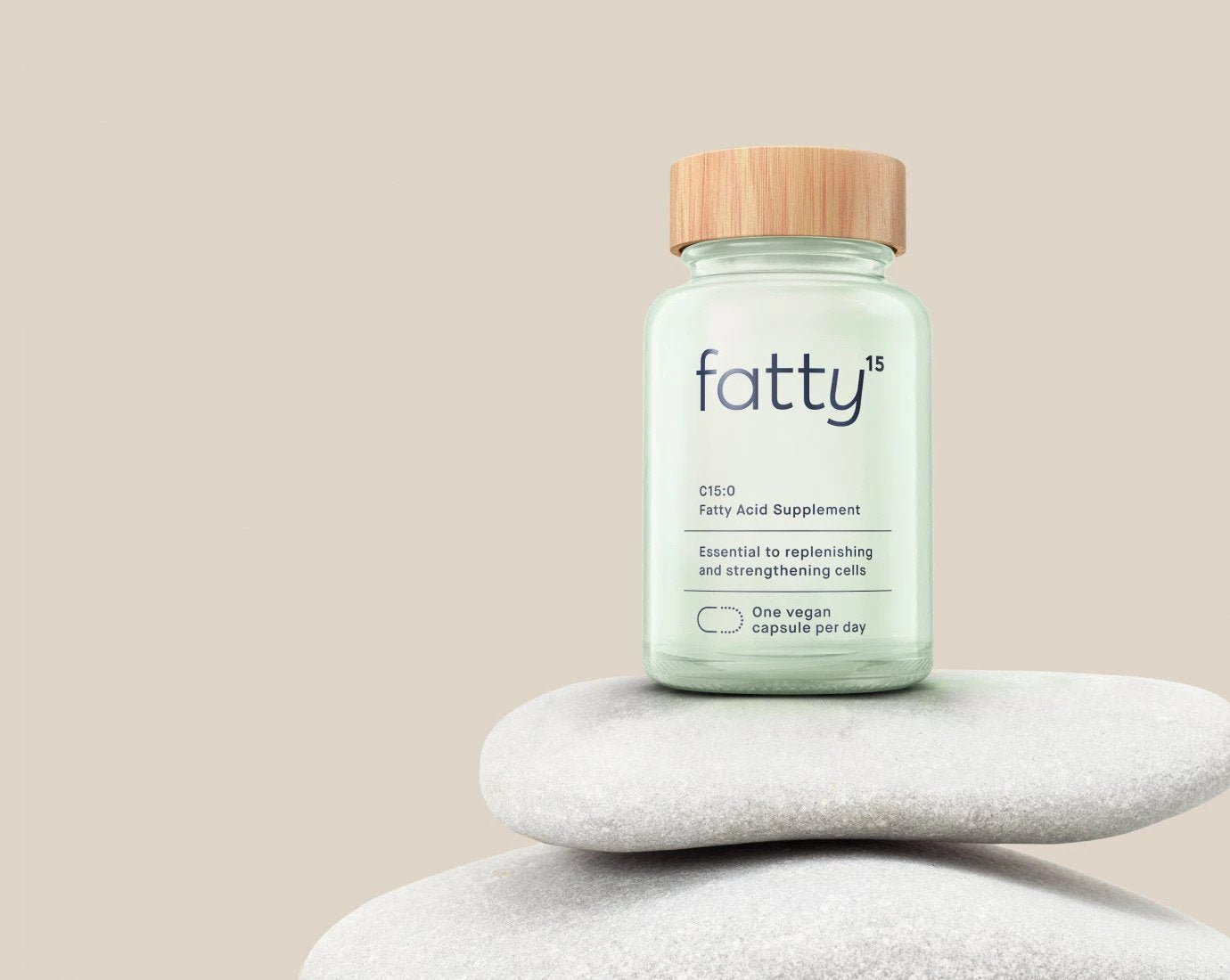 And it only has 1 ingredient.
It's FA15™
(aka pure C15:0 in powder form)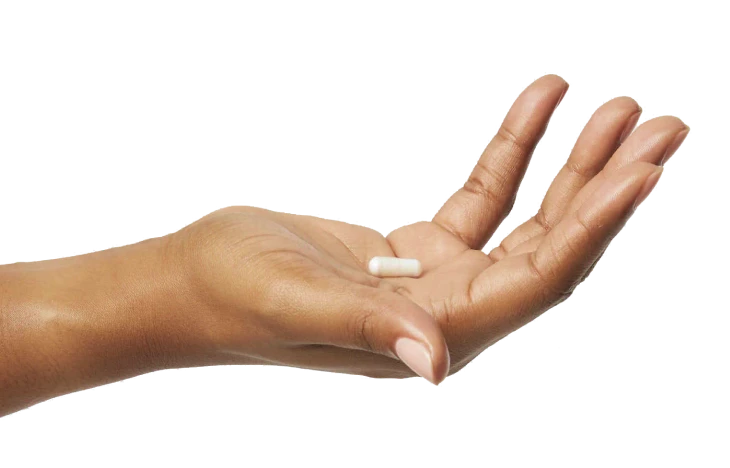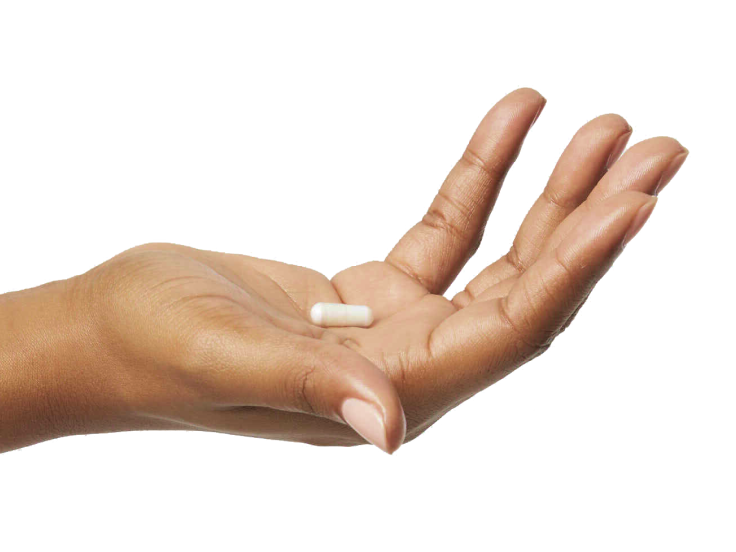 Tiny and easy to swallow.
FA15™ (the pure, fatty acid powder in fatty15™) is a trace micronutrient. So our capsules are smaller and much easier to swallow than most supplements.
Planet-friendly packaging. And less of it.
Because everything we do is for a healthy you and a healthy earth, too. So every bottle, kit and pouch is made with renewable materials.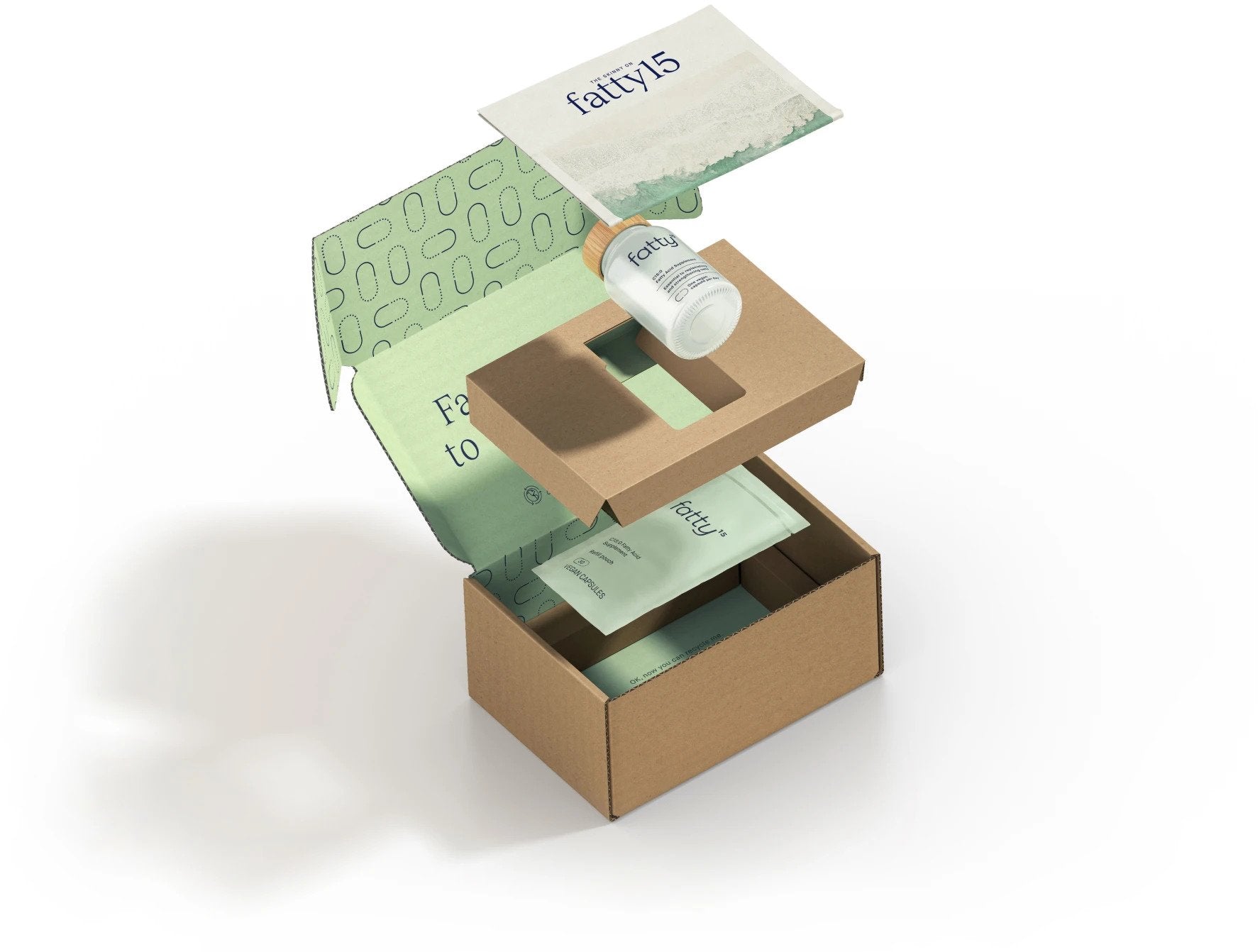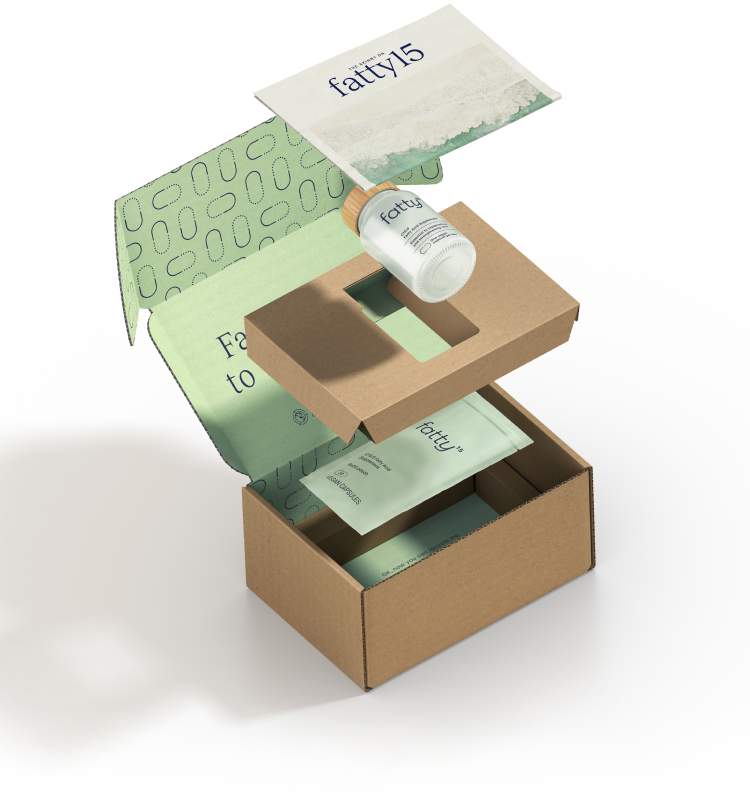 Recyclable newsprint
Vegetable based ink
Made from 100% recycled materials
Certified wood bamboo cap
All glass, zero plastic bottles
FSC-certified cardboard
"What began as a passion for working with animals has resulted in an entrepreneurial journey of taking the science from the bay to the lab...and developing a product that people can take to improve health on a cellular level."
- Monica Haider, Forbes
"For decades there has been a war on fats such as butter, whole milk, and cheese. But for the first time in 90 years, a San Diego company made an amazing discovery of a new fat, present in butter, and one your body desperately needs."
– Steve Atkinson, KGTV ABC10 News
"This discovery [by Seraphina Therapeutics] may elevate C15:0 to the ranks of now hallowed essential fatty acids omega-3 and omega-6 as well as usher in a new dialogue on changing the global guidelines for intake of dietary saturated fatty acids."
– Karen Raterman, New Nutrition Business
"In tests, daily oral supplementation with pure C15:0 for approximately 12 weeks supported healthier cholesterol and glucose homeostasis in obesity models and advanced hepatic form and vitality in liver disease models."
– Vegconomist
"Known as pentadecanoic acid, or C15:0, the dietary saturated fat found in milk, butter, fish, plants and other foods was shown in studies to demonstrate broad health benefits. It would join omega-3 and omega-6 as the only fatty acids considered by nutrition scientists as essential."
– Christopher Doering, FoodDive
"As for the future, Venn-Watson and her team had discovered about 100 molecules naturally present in the serum of both dolphins and humans, that looked like they could protect against the onset of aging-related diseases, so it is very possible we will see more to come from her team. But presently, this discovery of a new [essential] fatty acid is incredibly remarkable."
- Micki Wagner, Worth
"I'm a big believer in supplements so I was super intrigued to try Fatty 15, a supplement that is packed with good fats in order to help your cells age well from the inside out. Fatty15 uses only one ingredient: C15:0 (good fats!) to help arm your cells with what they need to age healthily."
- Kelly Gallagher, Byrdie
"When Dr. Stephanie Venn-Watson started studying dolphins at the US Navy's marine mammal program, she wasn't expecting to turn the food pyramid on its head."
- Jessica Rendall, C|NET
See what our customers are saying.
Read the reviews:
Asked, and answered.
Because scientists seriously love questions.
What is fatty15?

Fatty15 is a once daily oral supplement working to counter age-related breakdown, including strengthening cell membranes, keeping mitochondria working, and advancing cellular homeostasis.* Fatty15 contains one ingredient - pure pentadecanoic acid (C15:0).

What is C15:0?

C15:0 is an odd-chain saturated fatty acid present in trace levels in whole fat dairy products and some plants and fish. A growing body of scientific evidence supports that C15:0 is the first essential fatty acid to be discovered in 90 years (there are only two other essential fatty acids, one omega-3 and one omega-6 fatty acid).† "Essential fatty acids" are nutrients that our bodies don't make but are necessary to maintain physiological health. As such, our primary sources of essential fatty acids are food and dietary supplements.  Fatty15 offers an easy way for people to meet their essential C15:0 needs, every day.*

What is the benefit of taking fatty15 over just eating more dairy fat (which contains C15:0)?

While whole-fat dairy products contain trace amounts of C15:0 (our good saturated fat), these foods also contain much higher amounts of bad saturated fats (like, C16:0) that are associated with negative health effects.* In addition, unlike dairy products, fatty15 contains pure, vegan-friendly, non-dairy, and lactose-free C15:0.

How long before fatty15 starts working?

Our studies support that fatty15 starts working between 1 to 3 months of once-daily oral supplement-taking. This is why our recommended starter kit has a 90 day (3 month) supply.

Can I take fatty15 with other vitamins and supplements?

Fatty15 was developed to complement your diet and current health regime. To date, no specific contraindications between fatty15 and other supplements or vitamins have been identified. Your health is our top priority, and we encourage you to talk with your healthcare provider before beginning any supplement regimen.

Are fatty15 supplements vegan?

Yes, they are vegan-friendly. In addition to being vegan, our product is dairy-free, gluten-free, and in the purest form. Free of preservatives, fillers, oil, animal byproducts, corn, soy, and artificial colors.

Is fatty15 and its packaging environmentally friendly?

Yes! Our top two priorities are your health and the health of the Earth. From our ingredient, to your refillable glass bottle, and even to the package on your doorstep, we designed everything with these priorities in mind. To learn more click here.

How does the subscription work?

Fatty15 will come in a starter kit, containing everything you need to start improving your cellular health. In the fully recyclable (and dare we say inspiring) kit, you will receive a 90-day (3-month) supply of fatty15 capsules to be placed in your reusable glass bottle, as well as an educational insert. The starter kit has a 90 day supply because our studies support that fatty15 can take up to 3 months to achieve its initial health benefits.
Looking for more info? Here's our full. FAQ.
Other Items
Check out some of our other essential items important for everyday life.
What's introductory pricing?
You're among the first to start aging on your own terms.* And we think that calls for a celebration. So we're offering our fatty15™ 90-day supply for $119.95 (normally $149.95). Start your subscription now to lock in the savings!
What's included in my pre-order?
The Smarter Starter Kit

1 reusable glass bottle and a 90-day supply of fatty15™.

The Quarterly Subscription

A 90-day supply, delivered to your door quarterly.
When will I be billed?

We'll bill you $119.95 today. Then, $119.95 every 90 days.

Ready to give your cells a fighting chance?

We are too. Let's do it!